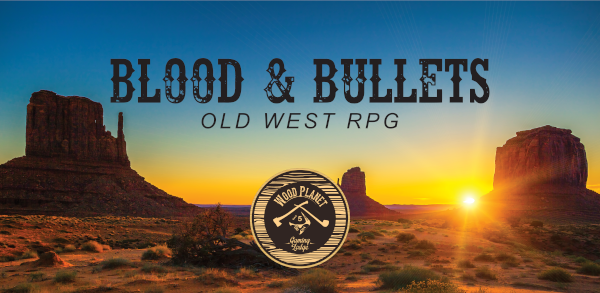 WPGL is pleased to announce the release of our second BBG Legacy Edition title.
Blood & Bullets: Old West (BBG Legacy Edition)
A traditional wild west role-playing game rooted in the OSR tradition. In Blood & Bullets the player characters rise to either become legendary heroes or infamous outlaws.
Rooted in the OSR, the rules are familiar – as they're based off of Swords & Wizardry (White Box) – and the games is class based, with multiple classes to pick from – The Dude, The Gambler, The Shootist, and The Trailblazer.
If you like old school gaming and you like the wild west, this might well be the game you're looking for!
So, grab yourself a copy of Blood & Bullets: Old West (BBG Legacy Edition).
It's available digitally and in print (glossy cover) from DriveThruRPG and in print from Lulu (matte cover)!
DriveThruRPG
https://tinyurl.com/BloodBulletsDTRPG
Lulu
https://tinyurl.com/BloodBulletsLULU
Stay tuned for the re-release of the other BBG Legacy Edition titles in our stable. Thanks for your support!
---