As an impromptu 'End of the Year' release, here at WPGL we've pushed out two character sheets. One of them is for Mark A. Hunt's Tall Tales Wild West B/X Fantasy Adventure Game, and the other is for James M. Spahn's White Star: Galaxy Edition (White Box Science Fiction Roleplaying).
Direct links after the jump!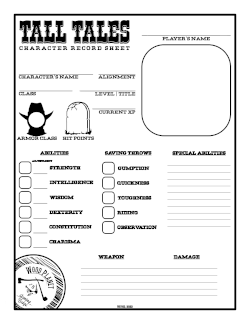 WPGL Edition Tall Tales Wild West BX Compatible Character Record Sheet
This character record sheet comes in a ZIP file containing two slightly different versions of the sheet. Both are front and back.
WGPL Edition White Star Galaxy Edition Compatible Character Sheet
This character sheet has both a front and back.
They're both available right now on DriveThruRPG.
Stay Tuned for more OSR goodies coming in 2023!
Enjoy!
---