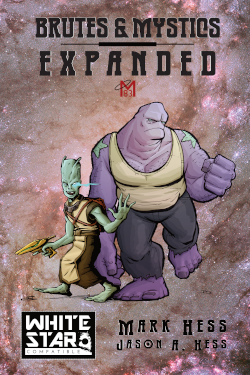 For July we are excited to share that we've released two compatible products for the White Star: Galaxy Edition RPG… BRUTES & MYSTICS EXPANDED, and BOOSTER DECK, Vol. 1.
Brutes & Mystics Expanded
Expand the Alien Brute and Alien Mystic classes with aliens from the M83 Galactic Setting.
Available digitally on both DriveThruRPG and Lulu.
Additionally, a lovely a saddle-stitch POD edition is also available through Lulu.
Booster Deck, Vol. 1
Referee, do you need a ship, a creature, an NPC, or even a food menu on the fly?
Draw a card from the Booster Deck vol. 1 – a quarter (1/4) deck for use at your table – and you are ready to go. Either choose randomly or stack the deck for planned encounters. Includes Creatures, NPCs, Ships, and More!
Available as both a digital and physical release over at DriveThruRPG.
Stay tuned for more White Star compatible products!
---